For You From The Word
Friends always show their love. What are relatives for if not to share trouble? (Proverbs 17:17, GNT)
For You To Think About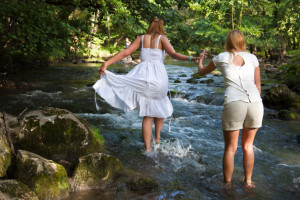 A friend relationship is modeled on the unconditional love of Jesus Christ.  That's why the Birthmothers ministry motto is derived from Proverbs 17:17: A Friend loves at all times™.
Scripture explains that one way a friend shows love is in the choice to share your burdens and joys.
Ruth, a godly woman in the Old Testament, shouldered her mother-in-law's struggle with loneliness to the point that she joined with the older woman in moving to a different land.
Likewise, a friend walks with you in times of trouble. Rather than reflecting an unhealthy co-dependent relationship, a friend's love shares your burden freely. She maintains the ability to live autonomously, but chooses to share pain and joy alongside you.
It is this free choice that makes a friend's love so powerful … and even reminiscent of the choice Jesus made in going to the cross.
For You to Pray
Heavenly Father,
Thank You for using us to show Your love. Help me demonstrate the love of a friend by choosing to shoulder burdens and joys – freely – with a woman or man who faces an unplanned pregnancy. Amen.
---
More About Friends and Friendship During an Unplanned Pregnancy
A Friend Loves at All Times – and Is Sent By God
Story of a Match: A Friend Is a Tangible Reminder of God