For You From The Word
Before I formed you in the womb, I knew you.
(Jeremiah 1:5)
For You To Think About
A letter from a pregnant woman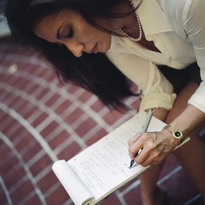 Dear God,
As I carry this child, I am full of fear. There are so many unknowns. Yet Your Word says of my child, "Before I formed you in the womb, I knew you."
I haven't even met my baby yet. But You know her. You've known her a long time – in fact, You say You knew her before You created her inside me.
You know her personality … her likes, dislikes, and special skills. You know her weaknesses, too. You see that she will be cared for. You have plans for her. You already know who her friends will be and what she will do for a living.
Because You know her, You also know her family. It was no mistake that You chose me to carry her, regardless of the many times I question that fact.
There is tremendous comfort in knowing that You know this child – and that You're forming her inside me. I need not bring her into this world alone.
You know her. You're forming her. I am a partner with You.
In appreciation,
Your daughter
For You To Pray
Loving Father,
Comfort women who are pregnant. Remove their fear. Let them understand that You know their babies intimately and that they are not alone as they carry them.
In Jesus' name, Amen.
---
More Letters
A Friend's Letter to Pregnant Woman Offering Support
A Friend's Letter to a Woman Considering Abortion