Birthmothers Friends are the lifeblood of our ministry. Potential volunteers often ask us what it means to serve in this capacity. Here are some frequently asked questions (FAQs).

Q. How do you find volunteers to become Birthmothers Friends?
A. Potential Friends learn about us on the web, through their churches, or through people they know.
Q. I don't have any counseling experience. May I still become a Friend?
A. Yes! Our staff will guide you through Friends Certification Training to equip you with tools and skills you need to be a Friend, no matter what your background. In addition, we provide ongoing support during your Friend-birth mom relationships.
We've learned that birth moms' number one need is for someone to listen and be there, but at the same time it's important that you feel as prepared and confident as possible to be a Friend.
Q. Does being a Friend take a lot of time?
A. It's up to you to decide. One benefit of being a Friend is that you can meet with your birth mom at your convenience, and at a place that suits you both. You can also support your birth mom through phone and e-mail. Many of our Friends are moms of young children, working women or parents of teenagers.
Q. How should I proceed if I feel called to be a Friend?
A. Contact Birthmothers and sign up for Friends Certification Training.
Q. What if there are members of my church who are interested in serving, too?
A.  We'll schedule a Friends Certification Training at your church.  When you have several congregation members trained as Friends, you can form a Birthmothers Church Team, support each other as you serve, and mobilize your congregation in minister to hurting women and families.  Church Teams are a powerful ministry.
Q. Explain what happens at Training.
A: Volunteers receive a special Training Manual. Birthmothers' staff lead volunteers step-by-step through learning how to be a Friend: engaging the birth mom, listening and responding empathically, practicing spiritual care, sharing faith, role playing, connecting with community resources and handling crises. We make a special point to help Friends understand adoption options that are available, so they can explain these clearly to birth moms. At the conclusion of Training, volunteers complete an information inventory and sign A Friend's Pledge. We give them a certificate and Birthmothers pin, and welcome them as new Friends.
Q. How do volunteers respond to Training?
A. They're surprised that there's so much information and support a Friend can offer – and they're excited about getting started.
Q. How are Friends matched with birth moms or family members?
A.  When women, partners, or family members contact us (703) 261-6370 in metro DC, or toll-free from anywhere at 1 844-772-4784, 24 hours a day/7 days a week) they speak with a caring staff member.  Callers are encouraged to share as much or as little as they like about their situation. The staff member asks the caller if she (or he) would like to be matched with a Friend. Birthmothers staff match Friends and clients based on geographical proximity, situation, background and, if possible, personality traits.  Occasionally we broadcast the need through our ministry-eyes-only email – for instance, when a birth mom lives in an area where we have few Friends; when a birth mom needs a ride to a doctor's appointment; when a birth mom needs child care for an older sibling in an emergency.
Q. Are all Friends women?
A. No. We have a number of men who train as Friends and provide one-on-one support for birth dads involved in an unplanned pregnancy.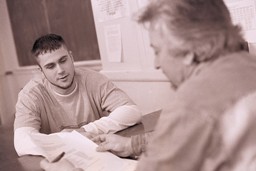 Q. Describe ongoing support provided for Friends.
A. Staff members regularly check with volunteer Friends who are in active client relationships to see if they need help, ideas, and guidance.  Church Teams support Friends with prayer and encouragement. Birthmothers provides periodic in-service trainings, so that Friends stay current with information about pregnancy, childbirth, adoption, services, and resources associated with pregnant women, families, and pro-life issues.
Volunteer Friends tell us that the support they receive as they minister plays a big part in making their experience rewarding and fulfilling. They are on the front lines, and we do everything we can to make their ministry successful.