For You From the Word
By standing firm you will gain life. (Luke 21:19, NIV)
For You To Think About
At the start of Passion Week, Jesus entered Jerusalem to the cheers of the crowds.
It would have been tempting, from that point to the end, for Jesus to bask in the adoration and "check out" – that is, for Him to dismiss His responsibilities and use His remaining days to simply enjoy life. Jesus knew what was to come. Shouldn't He have a respite before the arrest and crucifixion?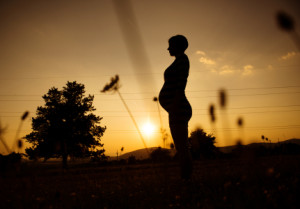 But instead, during those remaining days Jesus continued with the mission to which He'd been called. He taught. He invested in relationships. He confronted religious leaders. He encouraged believers to stand firm when challenged.
Living With Courage
Those who face an unplanned pregnancy know what is to come. A due date has been determined. A child will enter the world.
Courage: should you take it or leave it? During that time of preparation, it can be tempting to "check out" – whether by escape, denial, or ignoring the turn of events. Yet Jesus' example reminds us to stay on mission. Any season of life can be productive, even when a major change is about to occur, when faced with courage and conviction.
Scripture tells us that most people will give up when faced with the challenge of faithfulness. For those who are pregnant and did not plan to be, standing firm and carrying out God's call may not be the easiest course of action. Nor is pressing forward to love God and serve Him (Matthew 24:10, 12).
But it's the most fulfilling and rewarding.
For You To Pray
Heavenly Father,
Strengthen hearts of those facing an unplanned pregnancy. Remind them of Jesus' steadfastness in the face of an earthshaking event. Give these women and men the courage and tenacity they need to stand firm and carry out Your call on their lives.
In Jesus' name, Amen.
---
More Devotions for Passion Week
Two Cries of Hosanna
Jesus, Jewish Leaders, and Pregnant Women
At Easter: How Jesus Honored Women