For You From The Word
Honor your father and your mother. (Exodus 20:12)
For You To Think About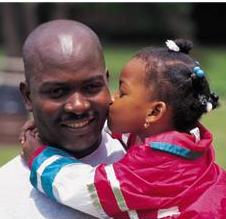 Father's Day, celebrated on the third Sunday in June, honors dads and celebrates fatherhood. But it took six decades for our nation to make the celebration official.
In 1909, Sonora Smart Todd heard a sermon about Mother's Day and asked her pastor to celebrate a similar holiday for fathers the following year – in June 1910. In 1924, President Calvin Coolidge recommended that states observe Father's Day, but he did not issue a national proclamation. Two other attempts to formalize the observance failed in Congress.
It was Maine Senator Margaret Chase Smith who moved the father's role into the national spotlight. "Congress has been guilty now for 40 years the worst possible oversight perpetrated against the gallant fathers of our land … and should cause us to hide our heads in shame," she said in 1957. "Either we honor both our parents, mother and father, or let us desist from honoring either one. But to single out just one of our two parents and omit the other is the most grievous insult imaginable." Father's Day became a national holiday in 1972.
Thank you, dads. We're only sorry it took so long to show our gratitude.
For You to Pray
Heavenly Father,
Thank you for fathers, who play such a vital role in children's lives. Allow us to show them deep appreciation and respect, both at Father's Day and throughout the year.
In Jesus' name, Amen.
---