For You From The Word
His friends met together by agreement to go … and comfort him.
(Job 2:11)
For You To Think About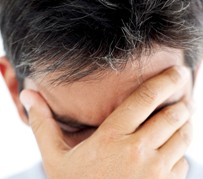 Dan glanced over at Michael during church. Michael held his head in his hands. His shoulders slumped. Dan had never seen his normally upbeat friend so burdened.
Later, in the parking lot, Dan caught up with Michael. "Is there something on your mind?" he asked. Michael bit his lip and looked away. Then he turned back to his friend.
"My granddaughter Tiffany is pregnant," he said. "She doesn't know who the father is. I feel so helpless. I pray she makes a good decision."
Dan reached over and embraced his friend with a bear hug. "I'll pray with you," he said.
An unplanned pregnancy impacts not only the birth mom and the birth dad, but everyone in their circle. Your sensitivity to family members – and your loving support – reflects Jesus' unconditional acceptance and offers hope.
For You To Pray
Loving Father,
Help me be sensitive to those whose lives are touched by an unplanned pregnancy, especially family members. Reveal how I can offer support. Let Your love flow from me to them.
In Jesus' name, Amen.
---
More About Families