For You From The Word
Let us do good to all people, especially to those who belong to the family of believers. (Galatians 6:10)
For You To Think About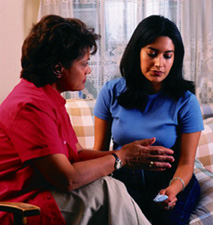 Lucy had heard through friends at church that Danielle's college-age daughter was pregnant.
Lucy's heart went out to Danielle – not in pity, but in compassion. She knew many looked down on families of girls who "got themselves into trouble."  Lucy didn't want to appear judgmental.  She prayed and checked her motives.  She felt they were right.  But was it really any of her business to go to Danielle and tell her she cared?
Yes!  It is a good thing to offer unconditional acceptance and help to a woman and her family when they face an unplanned pregnancy – particularly when they are fellow believers.
Lucy went to Danielle and talked with her about her daughter's pregnancy.  She discovered that Danielle was afraid for her daughter, ashamed about what other Christians were thinking, and alienated because people at church had begun to ignore her.
When Lucy told her about Birthmothers and other resources for birth moms, Danielle clung to her and cried.  Finally, someone had shown Danielle they cared – and that there were answers.
For You To Pray
Loving Father,
Ready our hearts to talk to families and pregnant women in need.  Give us courage and pure motives to offer hope and help.
In Jesus' name, Amen.
---
More on Serving Pregnant College Students
How to Save Lives on College Campuses
58% College Age Students Don't Know Where to Get Pregnancy Support
College Soccer Star Chooses Life