For You From The Word
Stand firm in one spirit, contending as one man for the faith. (Philippians 1:27)
For You To Think About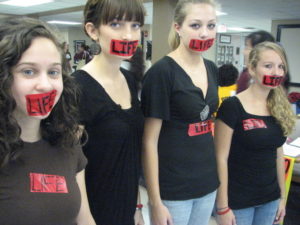 On the third Tuesday in October, tens of thousands of students will lose their voices … voluntarily.
They will take part in a growing movement on college and high school campuses called the Pro-Life Day of Solidarity.  Students will give up their voices for a day on behalf of aborted babies who don't have a voice – the one-quarter of their generation aborted before birth.
Participants will wear red arm bands or red duct tape and distribute flyers that explain, "Why I Am Silent."
For You To Pray
Loving Father,
Comfort today's young people, unite them as a generation, and allow them Your strength to stand together for life.
In Jesus' name, Amen.
---
More About Students Standing For Life
4 Things Accomplished As Teens Stand With Those Who Have Been Silenced
Students Weep With Those That Weep – And Save Lives
Millennials: Today's Most Pro-Life Generation