For You From The Word

Everyone who acknowledges me before men, I also will acknowledge before my Father who is in heaven. (Matthew 10:32, ESV)
For You To Think About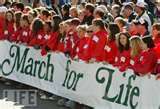 On January 22, 1974 – the one-year anniversary of the United States Supreme Court's Roe v. Wade decision legalizing abortion – an estimated 20,000 committed Americans gathered on the west steps of the U.S. Capitol in Washington, D.C. to rally for the right to life on behalf of the unborn.
Now called the March for Life , this peaceful demonstration has taken place every year since 1974 on or around January 22.
The March for Life has become the largest pro-life rally in the world, drawing up to 400,000 – 500,000 participants to the National Mall each year. Many conclude their visit to the nation's capital by meeting with their congressional representatives, urging them to take a stand for life.
For You To Pray
Gracious Father,
Thank You for the gift of life. Move our citizens and leaders to take a stand on behalf of the unborn.
In Jesus' name, Amen.
---
More about the Pro-Life Movement