For You From The Word
My God will supply every need of yours according to his riches in glory in Christ Jesus. (Philippians 4:19, ESV)
For You To Think About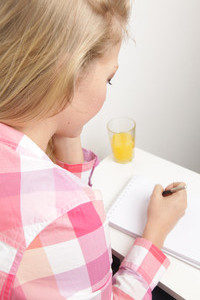 Many women buy into the myth that once they become pregnant, they can't afford college.
But they cannot afford to drop out. The National Institutes of Health reports that mothers with at least a two-year degree or a bachelor's degree face almost no risk of living in poverty.
That's a good reason for you or a pregnant college student you know to get a degree. You can do so when she takes these steps to find the financial resources to stay in school.
Work with a financial aid counselor. Financial aid staffers at your college have a goal: to produce graduates. Let them do their job – let them help you. They are aware of special resources available to pregnant and parenting students at your institution. They will also point you to special benefits available in your area, such as child care for full-time students.
Know your financial status. Once you become a parent, you are considered an "independent" student for financial aid purposes. Nearly all independent students qualify for more tuition assistance than those classified as dependents, including special government grants. Complete the FAFSA (Free Application for Federal Student Aid) to find out your benefit.
Check with your state. In many cases, state-specific scholarships for single parents are actually offered through the state's college or university system. Contact your state higher education agency to find out what scholarships or grants are offered to single moms and dads.
Apply for scholarships. A wealth of private organizations and foundations provide scholarships for pregnant and parenting women. Check with Pregnant on Campus for a listing . Register with FastWeb , an online scholarship matching service, to receive scholarship notifications by email that are tailored to match your profile as a parent.
God provides an array of financial resources to meet the needs of pregnant and parenting students. When you can know how to find them, you can use them to finish your degree … or be a tremendous resource for someone you know who faces and unplanned pregnancy.
For You To Pray
Heavenly Father,
Thank You for providing for all our needs according to Your riches in Christ Jesus – even the financial needs of a pregnant or parenting college student. Point these women and men where to find the resources they need to finish their education. Show me and others how to help them.
In Jesus name, Amen.
---
More About College Students and Pregnancy
What Pregnant College Students Need, Part 3: Vision
What Pregnant College Students Need, Part 2: To Know Their Legal Rights
What Pregnant College Students Need, Part 1: University Support