For You From The Word
"I am the Lord's servant," Mary answered. "May it be to me as you have said."
(Luke 1:38)
For You To Think About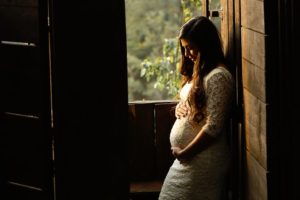 Mary was surprised when she discovered she was to bear the Christ Child. Yet right away she took some productive first steps.
Share these with women you know who face an unplanned pregnancy.
Mary asked questions. She found out as much as she could from the one who delivered her news (Luke 1:34-37).
Mary accepted the pregnancy. Her condition was not only a shock, but in ancient Israel would render her as a social outcast and could have led to her stoning. Nevertheless, Mary received the word of her pregnancy with grace and resolved to move forward (Luke 1:38).
Mary sought out support. Cousin Elizabeth could provide understanding and encouragement, which Mary knew she needed. Mary took the initiative to connect with Elizabeth and spend considerable time with her (Luke 1:39-45).
For You To Pray
Loving Father,
Help pregnant women accept their pregnancies and reach out for support.
In Jesus name, Amen.