For You From The Word
I pray that you may enjoy good health and that all may go well with you.
(3 John 2)
For You To Think About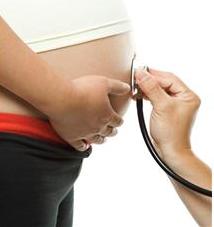 The National Survey of Family Growth by the CDC and the National Center for Health Statistics demonstrates the special challenges faced by women who become pregnant but did not plan to be.
According to the report, 50% of U.S. pregnancies are unplanned. Of the women whose pregnancies are unplanned (as compared to those whose pregnancies are planned) …
Twice as many do not receive prenatal care or only receive it after the first trimester
38.5% are more likely to smoke
1 in 5 are more likely to deliver a low birth weight baby
Mothers whose pregnancies are unplanned, as well as their babies, are more at risk for complications in childbirth and poor health.
But if these women have one-on-one support during pregnancy, then they will have a greater chance of receiving medical check ups … smoking cessation classes and support … good food … and their chances of good prenatal care and a healthy delivery are much, much different.
For You To Pray
Gracious Father,
I pray that women who face an unplanned pregnancy may enjoy good health and that all may go well with them. Show me and others how to support them so that they can receive excellent prenatal care and deliver healthy babies.
In Jesus' name, Amen.