For You From The Word
The Lord opens the eyes of the blind. The Lord lifts up those who are weighed down. (Psalm 146:8, NLT)
For You To Think About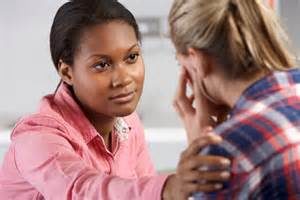 Catherine Adair was a young, idealistic college student when she began working at a Boston women's clinic. Her motive was simple: she supported women's rights. "I strongly believed that I would be helping other young women access safe and affordable health care," she says. "I didn't have any understanding that abortion could have any negative implications for women, and I certainly didn't consider the baby involved."
It was one way, she now surmises, to validate her own decision to have an abortion years earlier.
Catherine worked at the clinic first as a receptionist, then a scheduler and counselor. Eventually she assisted with first trimester abortions.
But Catherine faced a turning turning point when she was asked to clean up a procedure room after a second trimester abortion. There she saw a jar containing fetal arms and legs. The beauty and perfection of the feet and legs, she said, didn't seem real. The moment stunned her. She left her job soon after.
"I didn't realize before … that we were talking about babies," she says. "I couldn't lie anymore. I had seen it. I left because emotionally I couldn't handle it anymore."
Catherine went to graduate school and became a teacher. Her husband, a Catholic, urged her to attend Mass with him and raise their 5 children in the church. Since then, Catherine has converted and has accepted God's forgiveness. Today, she is a pro-life activist and speaker.
For You To Pray
Gracious Father,
Touch hearts of abortion clinic workers. Give them tender hearts towards pregnant women. Open their eyes to see the truth about babies, mothers, and families. In Jesus' name, Amen.