For You From The Word
From the lips of children and infants you have ordained strength because of your enemies, to silence the foe and the avenger. (Psalm 8:2)
For You To Think About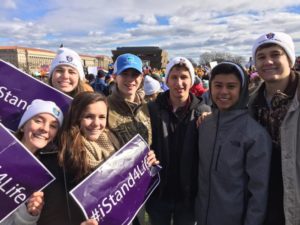 "A third of my generation is gone because of abortion," says Kristan Hawkins , Executive Director of Students for Life of America, explaining why her generation is the most pro-life generation in recent history.
Kristan underscores what was confirmed in a  Gallup poll : 47% of 18-29 year-olds say they are pro-life, an increase of 5% from previousGallup figures.
Today's young people give substantial reasons for standing for life:
My siblings were aborted and never got the chance at life.
Men and women of my generation lack spouses who were aborted.
Doctors told my friend's mother to abort her, but today she is perfectly healthy.
So many resources are available for women and families facing an unplanned pregnancy.
I lost friends to abortion without even knowing it.
I had an abortion and regret it.
Abortion is not the only option.
Do everything you can to encourage this generation to stand for life. The torch is theirs. They are grasping it.
"We are pro-life," says Kristan. "We vote, and we're in this fight to win it."
For You To Pray
Gracious Father,
There is a growing respect for life among today's young generation. Thank you! Strengthen these young people to stand firm. Increase their numbers and help them spread the pro-life message to their peers.
In Jesus' name, Amen
---
More Pro-Life Trends Today
What More Young People Learn Each January
The Battle for Life Is Being Won Among Millennials