For You From The Word
I was a stranger and you invited me in. (Matthew 25:35)
For You To Think About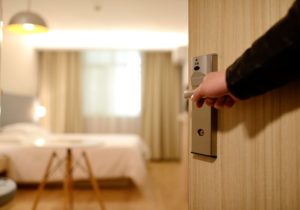 In 1882, wealthy New Yorker Charles Crittenton lost his 4-year-old daughter Florence to scarlet fever.  The tragedy moved him to start the Florence Night Mission in New York, a safe haven for women who were hurting, lost, or pregnant.
After that, Charles Crittenton traveled across the country in a railroad car, donating $500 to each town willing to start a home for young women and children in need.  More than seventy homes in total were opened. They were America's first maternity homes.
Today, one of the biggest needs among women who face an unplanned pregnancy is housing.
Our nation's 120+ maternity homes simply cannot provide enough beds for abandoned pregnant women and their new babies … not unlike 2,000 years ago, when a pregnant woman named Mary needed a place to stay.
For You To Pray
Heavenly Father,
You promise to supply all our needs according to Your riches in Christ Jesus. Move in able hearts to start more maternity homes. Touch Your people to provide shelter for women who face an unplanned pregnancy.
In Jesus' name, Amen.
---
More about Maternity Homes
Birthmothers Partners with PCC and Maternity Home to Save a Life
Ways Lives Are Saved: Maternity Homes Help Women Choose Life
What Pregnant College Students Need to Choose Life: Housing or a Maternity Home